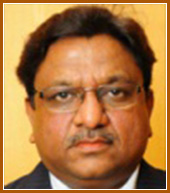 September 19, 2018
Dear Friends,
I am thankful to all of you for the confidence reposed on me and appointing me as the President of this great institution.
I would now like to share some of my ideas about the activities that I propose to undertake the first and foremost is the continuation of the programme of Interactive Session which have made a mark for our Association.
Friends, I am outlining some of the ideas that have occurred to me readily :
To increase membership strength by inducting at least 50 new members in next one year.
This is the era of Industry 4.0 – we need to introduce the same in our industry for real development. Digital innovation with qualitative improvement be our focus area to meet the future competition.
Engagement of members more and more in the Association's activities. We need more Charchas over tea to refresh our own ideas and solve our issues with our in-house resources. As we did in the past.
To organize seminars / Panel discussions on various topics like :

Motivation
Stress Management
Performance Management
Management information system popularly know as MIS
Energy Management System
Fire Safety & Insurance etc.
Besides, I would also request you to send me your suggestions for adding a new dimension to the activities of the Association. I am sure I will receive my due blessing from my Past Presidents.
I consider the responsibilities given to me today as an exciting opportunity. I can assure you that there would be no failing in my efforts.
I would, therefore, like to seek support and co-operation of the Managing committee members as well as all of you. I am confident that we would be able to create another dynamic Chapter in the rich history of our Association.
Thank you.
Narendra Kumar Jhunjhunwala, President
Contact : 97485-72778